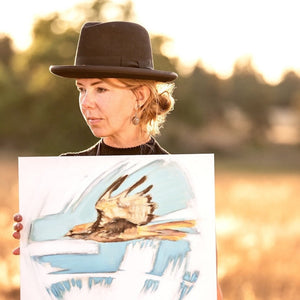 From Field to Studio Art Journey~ October 6-8, 2023
Sale price Price $1,295.00 Regular price Unit price / per
October 6-8, 2023
Join guest artist Coila Evans for a unique weekend art retreat. Coila will guide you through a series of observation techniques in the field, including field notes, sketching, and photos, to bringing those ideas back to the studio to create a final painting. She will speak on how being in nature informs her art, and demonstrate her process. Most importantly though, Coila will help you find your artistic voice and your painterly style.  Spend 3 days and 2 nights at the Lodge with delicious meals, morning yoga, invitations to hike in between painting sessions, and time to simply relax and enjoy the fresh mountain air and landscape. 
Materials List
(All of these supplies but Natural pigments, Artefex, and Rosemary can be purchased through Blick)
While I do recommend this list, as each component is important to my process. (I place a high level of importance on quality materials.)
Do bring the paints and brushes that work for you. With that said, I do strongly recommend bringing rigid substrates.
1-2) 6"x8" or gessoed, Masonite or birchwood panel panel
1-2) 12" x 16" or 18" x 24" gessoed Acm panel. You can order this through Artefex. Or Richeson (they make a nice gessoed Masonite panel)
Easel (it should easily accommodate the size panel you will be using) the ones I use for travel: U.go from New Wave Art. And ArtBoxandPanel - Both online
Old vine charcoal
Graphite pencil
I use Gamblin, Michael Harding, and Williamsburg paints. While I use them specifically for different colors, please use the brand that works for you
Flake white (Williamsburg)
OR
lead white paint (natural pigments)
Titanium white (Williamsburg)
Transparent red oxide (Williamsburg)
Ultramarine blue ""
Cerulean blue ""
India yellow (Gamblin)
Cadmium yellow. ""
Cadmium red ""
Natural pigments:
(I believe Gamblin makes an equivalent to this)
OLEOGEL
Oleoresgel
*** Gamsol solvent (DO NOT BRING TURPENTINE)
Paper towels - viva Kleenex is best (not required)
Plastic grocery bag to dispose of paper towels each day
Rosemary brushes (I used others for years. This is a top quality brand!)
Egbert paint brushes (Robert smith on Blick makes them too)
XL combers
Black sable riggers or small sized rounds
ALL Long Handled Brushes